Meet Deborah "Debi" Laurents
Wesley Nurse for First United Methodist Church of Elgin
Debi received a Bachelor's of Science degree in Education and has been a Registered Nurse since 1984.  Her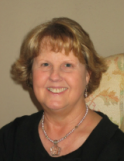 professional background includes a variety of areas in nursing.  After completing the internship program for new RN's at Baptist Hospital in Beaumont, Texas, she worked in home health care, became a Director of Health in the private insurance industry, and a Nurse Clinician in a rehabilitation unit.  But her favorite nursing role has been working in the community.  During her career she has been blessed to help six communities establish programs to serve their elderly citizens through neighbors helping neighbors programs.
Debi married her husband Albert in 1985 and they have four children Michael 6, Amber 8, Tiffany 9, and David 10 years old.  Albert, is an Electrical Engineer for the Lower Colorado River Authority (LCRA).
"In speaking to those of you who are part of the church and the community, I see endless opportunities for Elgin." 

Methodist Healthcare Ministries' Wesley Nurse Program
A Wesley Nurse is a registered nurse employed by Methodist Healthcare Ministries of South Texas, Inc. The Wesley Nurse program is a faith-based, holistic health and wellness program committed to serving the least-served in their communities by providing health education, health promotion and facilitation of resources. The Wesley Nurse assists individuals and communities to achieve improved health and wellness through self-empowerment and access to health care resource information.
The Wesley Nurse program spans 80 sites throughout South Texas and is Methodist Healthcare Ministries of South Texas, Inc.'s largest geographic outreach program. Learn more at www.mhm.org.
While the Wesley Nurse program is a component of Methodist Healthcare Ministries' ecumenical outreach and located within churches, it does not teach a particular set of denominational beliefs. All Wesley Nurse programs are free, and all members of the community are welcome. Programs are offered to groups or on an individual basis. Ongoing programs include:
Chair Dancing Exercise                                          Health Education Presentations
Understanding Cholesterol                                      Arthritis & Bone Health
Diabetes                                                                  Fall Prevention
Physical Activity & Your Heart                                Women's and Men's Health
Medication Management                                         Alzheimer's, dementia & memory loss
Community Outreach                                              Home Visits
Blood Pressure Program and Screening                Caregiving Issues
Nutrition & Healthy Eating
Contact the Elgin Wesley Nurse to make an appointment by calling the church office at (512) 285-4503.  All services are free and confidential.