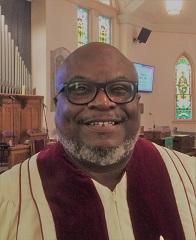 Pastor Robert Charles Waddle, a native of Columbus TX, was born on August 1, 1961 to the proud
parents of Robert Lloyd and Pearline Waddle. Robert has three younger sisters. Pastor Waddle's early
footsteps with God began when he accepted Jesus Christ as his personal Savior at the tender age of 12.
He began to feel his calling in 2002 and accepted it on May 28, 2004.
Pastor Waddle believes in preaching and teaching the word of God and believes that we must "live" the
word. He is "a tell it like it is", open, and honest man of God. He is respected because of his "do as I do
and not as I say" attitude. As an anointed preacher and teacher, he draws on his own failures and
shortcomings to deliver God's word.
What distinguishes him from others in his field is his love and compassion for others. Pastor Waddle had the privilege of ministering many churches. Each church has had the opportunity to excel to the highest under his leadership.
One of the churches was Wesley Chapel United Methodist Church. Wesley Chapel UMC of Altair Texas, consisting of twenty faithful members. They embarked on a great adventure of building a church. People thought they were crazy, but through prayer, God, the laity, and the great leadership of Pastor Waddle, they were able to raise close to $150,000.00. By doing this, they were able to purchase land, relocate, and build a new church with their first service taking place on January 16, 2014. It just goes to show numbers don't matter if you have Christ in your heart and faith of a mustard seed! All things are possible through Christ!
He was the President of the Ministerial Alliance in Columbus, TX. In May 2013, Pastor Waddle started the "Agape Love Brown Bag Ministry" and the "Friday Night Lights" ministry with St. Paul United Methodist Church in Columbus, TX. The Agape Love Brown Bag Ministry was a ministry where lunches are prepared to feed anyone in need of a meal. Meals were delivered to the sick and shut in, as well to the residents of nursing homes. Friday Night Lights was similar to the Agape Love, but it took place every fourth Friday of the month. This was a night where someone can receive the word along with a hot meal before they attend a sporting event.
Pastor Waddle has a special interest in young people. He believes the road to their success is dreaming and believing! Pastor Waddle worked for Boys and Girls Club in Columbus, TX, where he served as the Youth/Teen Director. This was a great opportunity for him to minister to our youth.
As the pastor of Simpson United Methodist Church in Austin TX, he established an organization called The Agape Table. The Agape Table was where members of the church feed the homeless and anyone in need, one Wednesday out of the month. Also, a food pantry was established under his leadership. This was where people can drop off clothes for anyone in need.
Pastor Waddle often states, "When a man finds a wife, he finds a good thing". Pastor Waddle's "good thing" is his wife of twelve years, Elisa Hood-Waddle. They have two sons: Rodrick Waddle, who resides in Katy, TX with his wife Chanel and their two sons Caleb and Avery; and Glen who resides in San Marcos with his daughter Olivia. They have a daughter, Bre'Ana Stafford, who has an Education degree from Texas A&M University, a master's degree in Educational Leadership from Texas State University, and is currently an assistant principal in the Hutto Independent School District. They also have a daughter, Kendall Waddle, who resides in Giddings, Texas with her son Messiah.
All in all, anywhere Pastor Waddle goes, the membership and congregation increases. As a visionary and shepherd, Pastor Waddle encourages the hopeless with messages that are inspirational, timely and relevant. None of this would be possible if Christ was not the head of his life.
o
o
o
o
o
o